Shaping the Future of Outdoor Recreation in Alabama.
Outdoor Recreation in Alabama Enhances the Health and Quality of Life for Everyone by Offering a Variety of Experiences that Embrace Social, Environmental, and Economic Sustainability.
The 2021 SCORP provides an important guide for all outdoor recreation funders, planners, developers, operators, and user groups to effectively enhance the delivery of outdoor recreation services to all Alabama residents.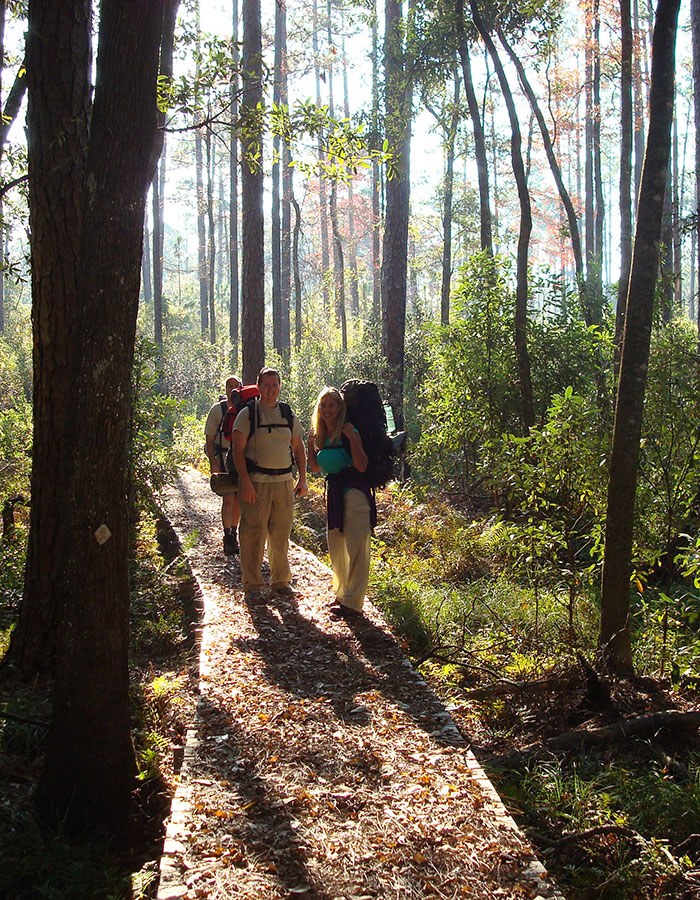 The Statewide Comprehensive Outdoor Recreation Plan (SCORP) is an essential statewide planning document that identifies regional outdoor recreation needs and opportunities by assessing the supply and demand for outdoor recreation facilities and important barriers to public participation.  
The SCORP also identifies ways organizations that support outdoor recreation development in our state can work individually and collectively to enhance the delivery of outdoor recreation services to Alabama's residents.
The SCORP document is useful for public agencies and private commercial outdoor recreation providers seeking to create opportunities that are responsive to residents' needs and demands.
The Alabama Department of Economic and Community Affairs (ADECA) uses this document to inform their Open Project Selection Process for awarding outdoor recreation development grants under the Land and Water Conservation Fund
The University of Alabama's Center for Business and Economic Research and Center for Economic Development undertook a 14-month planning process that informed the development of the document.  This process involved the input of over 2,000 Alabama residents, 800 recreation providers, and 60 key stakeholder organizations who participated in surveys and facilitated meetings.
OUTDOOR RECREATION DEVELOPMENT REPRESENTS AN IMPORTANT OPPORTUNITY FOR ALABAMA
Alabama has tremendous natural endowments:
Geologically diverse and beautiful landscapes
Among the highest biological diversity anywhere in North America
More miles of navigable water than any other state
More acres of forestland than our neighboring states
Stanford University's Hoover Institution found that Alabama has significant untapped potential. We have the smallest outdoor recreation economy of any southeastern state as a percentage of GDP. We have the least amount of public recreation land available as a percentage of our state's total area. Thoughtful investment in public lands and outdoor recreation development can help position our state to effectively compete for a highly skilled 21st Century workforce.
Outdoor recreation can improve the health of Alabama residents. Studies show that people with accessible opportunities for outdoor recreation are more likely to engage in regular physical activity, which helps reduce obesity and obesity-related disease and supports social and emotional well-being.
What is healthy for our residents is healthy for our economy.  Communities that provide a variety of outdoor recreation opportunities have a better quality of life, making them more attractive places to call home. They enjoy reduced healthcare expenses and increased productivity, and are better positioned to compete for talented workforces and corporate relocations.
Outdoor recreation tourism can spur economic development. Communities with marketable outdoor recreation destinations can benefit significantly from a large and growing outdoor recreation tourism market that supports retail and hospitality businesses and enhances the local tax base through tourism spending.